Plug plants are small plants which are ready to plant out. Plug plants are a great way of establishing wildflowers and  are more reliable than sowing wildflower seeds. Often sowing seeds can give an erratic germination and not always the balance of species desired. Plug plants can be used in any area of the garden, cottage garden beds, drift planting, difficult shady areas, pond edge, or ground flora for newly planted woodland and wildflower meadows. PlantWild plugs have  a square root ball of approx. 59ml and are sold in groups of 6 or trays of either 54 or 108.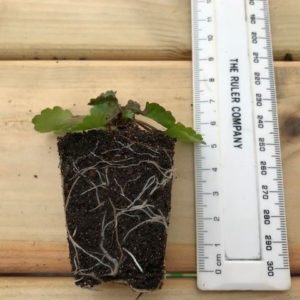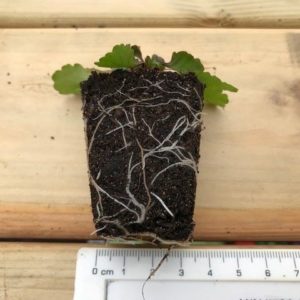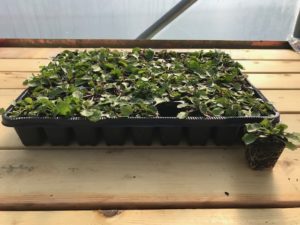 We recommend 6 of our plug plants per m2 depending on the plant species and the planting site. They can be planted out for most of the year providing the ground is not frozen or waterlogged but especially in Spring or Autumn when they establish well. They have great flexibility too as they will suit a prepared bare site; can sit in amongst other plants; and some species can also be planted within a lawn or grassland. When planting in Summer it is preferable if they can be watered regularly until established.
We also offer several fantastic collections of plug plants that are themed to help, with each collection containing at least 9 species relevant to the collection. Species are selected at the time of ordering from those available within each theme. Please see our collections here for details.
Planting 
Plugs can be planted with a small trowel or a dibber the same size as the rootball and preferably should be watered well depending on the weather to prevent them from drying out several weeks until they are established. This may take a few weeks depending on the weather. If planting into heavy clay soil the plants will establish better if given a larger hole and surrounded with a clay/compost mix. The plug plants should be planted in groups of the same species of 3 or 6 which will aid pollinators to find each wildflower, gives a natural  look and will also help the plug plants to establish. When planting check out our short video here showing how to remove the plug plants from their tray without causing any damage to the plug plant. If planting into a prepared bed or border, take a look at our planting video here.
In existing grassland or lawn ideally Autumn or Spring is the best time to plant, as long as the sward is cut very short when they are planted. The grass cuttings should be removed and the surface raked if possible to expose any bare patches where the plug plants can then be located. These patches will give a good starting point for planting. In a lawn it is essential that the lawn has not been fed with fertiliser for at least 6 months as wildflowers prefer a less fertile soil bed. Another method is to cut small circles from the lawn and plant groups of plug plants within these areas, so essentially planting in mini beds across the area. Again planting on groups of at least 3 of each species with approximately 6/m2 will give a good establishment.
If the area is large, and not been planted with wildflowers before it may be a good option to plant a small area initially to allow those wildflowers to establish, and start to spread before committing to the whole area.
In an area which is already planted, why not choose flowering species which are not already present in the area. Plug plants can be used to enhance a more visible area of a large meadow or extend the flowering season by choosing early or late flowering species. Different parts of a meadow could then be cut on 2 different dates to allow late flowering species to flower and set seed. This gives greater diversity to the meadow and allows a refuge and nectar source for wildlife when the main part of the meadow is cut for hay.
Rabbits enjoy plug plants! To avoid feeding the rabbits it is a good idea to protect plants with wire mesh or thorny twigs until they are established.
If you have any questions, or seek any advise just get in touch, and why not check out our plug plant collections to start your project.